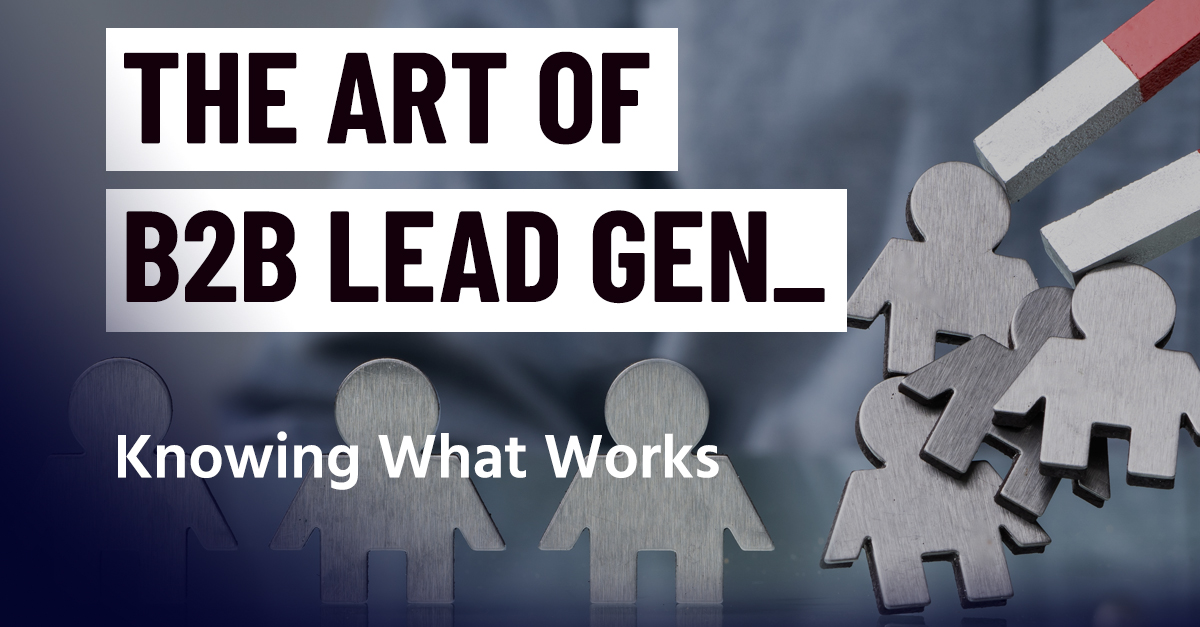 THE ART OF B2B LEAD GEN_
Is B2B lead generation your most important marketing metric?
It is for many companies.
In a 2021 research report by Copper and Outfunnel, B2B sales and marketing leaders were asked to rank key marketing metrics in order of importance.[1]
Their top answers?
The quality of leads (#1) and number of leads (#2).
With varying degrees of urgency, every business needs to attract new prospects. But what's the best way to generate high-quality leads? Is there an answer?
Where B2B leads come from…
HubSpot asked B2B, B2C, and B2B2C marketers where their leads come from.[2]
The answers are insightful.
Take a look at a chart we developed to summarize the findings: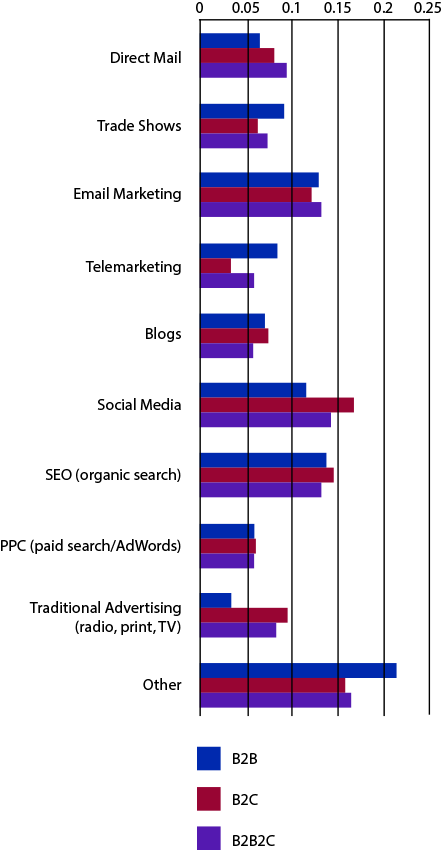 The topline takeaway?
There is no standalone solution for B2B lead generation. Instead, lead-gen happens across a short spectrum of interrelated marketing channels where everything is working together.
An effective B2B lead-generation program will adopt a blended approach, applied across a variety of channels.
Let's look at the top B2B lead generators and share tips to help you make the most of them.
Top B2B Lead Generators
SEO (Organic Search)
Email Marketing
Social Media
Trade Shows
Telemarketing
Blogs
Direct Mail
SEO: A never-ending (but highly rewarding) journey
There's no end to the process of Search Engine Optimization (SEO). It takes a lot of work. It's well worth the ongoing effort, though, accounting for about 13% of B2B leads.
Organic Search. Making it easy for prospects to find you online is the single best way to increase leads. But getting "found" is a continual challenge. Optimization is a process that looks at content, title and metatags, URL structure, keywords, and a variety of site performance metrics over time. An SEO campaign will help optimize website content to improve its ranking for important keywords. It can also ensure your content stays fresh, relevant, and search engine friendly.
Directory Submissions. There are dozens of online directories that are relevant to almost every vertical B2B market. Obtaining listings in these directories can be a good source of online leads. Also, general directories such as Better Business Bureau, Yellow Pages, and others, should be populated.
Google My Business. Adding detailed information to your Google My Business (GMB) profile helps Google better understand your business and match your business to relevant searches. It can also influence where you are listed on a Google Search Engine Results Page (SERP). Take advantage of GMB's built-in features for text messaging, Q&A, business reviews, photos and videos, and business insights.
Content Marketing. The hosting and sharing of high-value content – emails, blogs, social media posts, newsletters, case studies, whitepapers, videos, webinars, infographics, and the like – leads to improved organic traffic, Google rankings, clicks, and conversions. Prospects find more ways to engage with your content. Businesses who use content marketing on a regular basis see 30% higher growth than companies who don't.[3]
Mobile. Optimize your website for mobile traffic. (This is another key factor in driving better Google rankings.) Make sure your mobile site is clean and easy to navigate and provides a great user experience. Be sure contact forms and other forms behave as expected.
Email: Getting It Right
Email marketing ranks alongside SEO as the top generators of B2B leads. But not all email marketing is the same.
Cold Email Campaigns. Cold email outreach can generate sales leads, but it really needs to be done right. Following best practices will yield better results. Start by putting the effort in to build a great list. Clean it, vet it, and check it twice. Have a message that's relevant to your audience. Be creative. Keep it interesting. Personalize the email whenever you can. Don't spam people.
Prospect Emails. Once you have a lead, what do you do with it? If you said, "I make sure we keep in touch with them starting on day one, thank them for their interest in our company, and remind them that we are here with solutions that can make their life better," then you are an all-star. A series of new-prospect emails, delivered manually or through an automated marketing system, can help with the all-important requirement of maintaining contact.
Customer Emails. From time to time, it's good for existing customers to hear from you. Even a simple message will do. Seize the opportunity to thank, inform, excite, and cross-sell. (It's not technically lead generation, we know; but it's definitely customer retention, and that's a beautiful thing.)
Social Media: Hello World
Social media can be a good source of B2B leads if you know where to find them (or help them find you). Here are a few quick and very general tips:
Account Profiles and Settings. Make sure your business name is featured in your social media profiles and use the brief profile description to tell people what you do. Offer all available contact options, so people can get in touch easily via website, email, or phone.
Social Media Persona. As B2B marketers, it's important to remember that people are not generally on social media to be sold. They are there to engage with other users and discover interesting content. Be engaging, be informative, and have fun.
Planning. Be strategic in planning your social media calendar. Pencil in posts around important trade shows and key events. Be mindful of the timing of seasonal messages that may be important to your target customers. Think ahead to determine a few "umbrella" categories that can guide your creative efforts (e.g., team spotlights, technology highlights, community involvement, and business insights all make for good content categories). Be flexible and adapt as you go in order to keep your social media activities fresh and relevant.
Online Communities. Seek out communities where target customers are active and ask to join or follow. Many community groups will have rules against posting promotional content, so know the rules before posting. Simply being an engaged member of the community is a great start.
Tune In. Every social network is its own unique ecosystem. Take advantage of the nuances to tailor your content to each channel. LinkedIn, Facebook, YouTube, Twitter, and Reddit are wildly different social landscapes. Tune in to the vibe.
Trade Shows: Lead Me to More Leads
Trade shows remain solid sources for lead generation, according to most B2B marketing managers surveyed. Among the lead-gen strategies on our list, trade shows rank firmly in the middle.
Plan Your "Before, During, and After." Showing up for a trade show with a popup booth might be enough to walk away with a few new leads, but that's not thinking big enough. Pre-show emailers, advance digital and print ads, at-show sponsorships, and post-show follow-up efforts can up your game – helping to promote your participation and get better returns on your trade show investment.
Make News. Trade shows are ideal for new product launches and service announcements. Get the word out ahead of time by sending a short press release to key industry publications and trade show directories. Be sure to include a link to your website and other contact information as appropriate.
Be Social. Daily social media posts and email blasts during the show are a great way to keep your name in front of prospects and customers, and a reminder for people at the show to stop by for a visit.
Get Names! Make lead generation a priority at your booth. Take advantage of technology such as business card readers, QR Codes, and badge scanners to make it easy for attendees and your employees who are working the booth. Consider a drawing or promotion to encourage response.
Geo-Fence Your Audience. Geofencing is a kind of location-based marketing that lets you reach smartphone users within a tight geographic area. For trade shows, geofencing (and subsequent retargeting) is a powerful lead-gen tool.
Blogs and Related Content
Businesses who publish blogs on a regular basis get 67% more leads than companies who don't.[4] In addition to having lead generation power on their own, blogs provide content that helps SEO, email campaigns, and social media posts achieve higher engagement and click-throughs.
Create an Editorial Calendar. Plan ahead by creating a schedule of blog posts in advance. Organize blog topics to support strategic business objectives. Use blogs to entertain and educate prospects with information they'll find useful.
Be Creative. Good blogs require time and effort. Focus your copy on information that has value for the reader. Combine photos, charts, and graphics to support the main points of your blog. Incorporate a clear call-to-action to invite a direct response.
Add video. When you add video content to a blog, web page, or social post, you increase engagement levels. In some studies, people spend more than double the amount of time on pages with video as compared to pages without.[5]
Direct Mail
Direct mail still holds a place of unique importance in the mix of B2B lead generation tools. Used strategically, it can do things no other communication modality can.
Build or Buy a Good List. The first order of business in any direct mail campaign is the curation of a list that carefully targets your B2B audience. A good list ensures that your message is directed to the right people and helps avoid waste in your campaign spend.
Stand Out. Do something special to make an impression. Don't settle for a plain-vanilla design. Use size, color, texture, and photos to invite readership. Design a multidimensional mailer (who doesn't love opening a box?) to increase response.
Go Treasure Hunting. Direct mail is an especially powerful tool for reaching key decision-makers at targeted companies you want to do business with. Tailor the contents to your prospects and give them a reason to get in touch.
Conclusion
B2B leads come from a well-defined set of sources, all of which are important to the lead generation effort. A good B2B lead-gen program will utilize a combination of tactics (and lots of hard work) to build engagement and nurture prospects through a scripted lead-funneling process.
By fueling your efforts with content that your prospects will find useful, you'll be ahead in the lead-gen game.
There are many moving parts to a successful lead generation program. Triad B2B Agency can help grow and optimize your lead-gen efforts by tailoring a program to your goals.
For more information, we invite you to get in touch.
[1] https://outfunnel.com
[2] https://blog.hubspot.com/marketing/where-do-marketers-get-leads-data
[3] https://mailchimp.com/marketing-glossary/content-marketing/
[4] https://www.demandmetric.com/content/content-marketing-infographic
[5] https://themeisle.com/blog/how-to-use-video-in-blog-posts/
---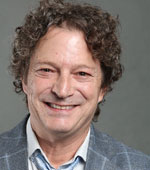 Tony Ammerman is a fan, referee, player, and coach in the game of advertising and marketing. He is Associate Creative Director and Senior Copywriter of Triad B2B Agency in Dallas, Texas.