Empowering Energy Insights
Better Technology for Operators & Mineral Owners
Thank you for visiting us at NAPE!
We are a technology team focused on solving problems and empowering users through in-depth insights and the smart use of data. We allow users to see what's important with tools to grow cash flow and better manage assets.  We provide operators and mineral owners with powerful, affordable, user-friendly solutions.
Making Mineral Management Easy

Combining our knowledge of tech with our background in the oil and gas industry, we set out to simplify the process of mineral management, creating an advanced software platform that provides better insights into mineral portfolios. The result is Royalty Advocate™ – a standard-setting technology platform that is revolutionizing mineral management with asset mapping, revenue data comparisons, and advanced analytics.
Creating a Free Revenue Data Exchange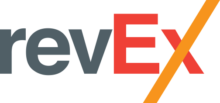 Addressing a major pain point in the revenue data exchange space – the high cost of revenue data – we developed RevEx™, a free revenue data exchange platform that eliminates the high-cost of exchanging revenue data. By democratizing the revenue exchange model, RevEx is a powerful, zero-cost platform for operators – including easy uploads, free data hosting, and free owner communication – along with free data access for both royalty owners and non-op working interest owners.
The powerful,
easy-to-use mineral
management platform.

The Royalty Advocate platform gives mineral owners what they want most – user-friendly management and deeper insights into their mineral asset portfolio.
Royalty Advocate combines a streamlined, user-friendly dashboard with visual asset mapping, real-time verification of payment accuracy, document safekeeping, and powerful analytics – all to help maximize the value of mineral holdings.
See what you own.
Royalty Advocate helps you see what you own instantly and find royalty revenue you might be missing. Everything is organized geographically, so you can quickly visualize your mineral holdings and see all producing, inactive, or unleased assets within your geography at a glance.
Verify payment accuracy.
Automate the comparison of state-reported production and pricing data to your royalty statements to verify that you are being paid correctly. Built-in tools notify you of inconsistencies.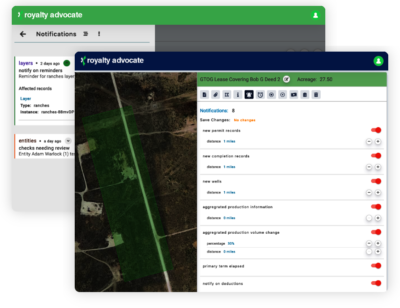 Stay organized
Eliminate the time and effort of searching through boxes, files, and spreadsheets. Scan documents securely and use search and filtering tools to readily find the information you need.
Gain Insights.
Royalty Advocate offers intuitive, built-in analytics to yield better portfolio insights, and help you prepare your business for the future.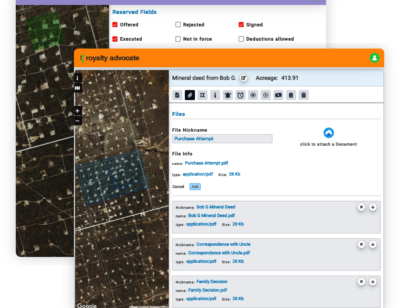 The industry has spoken! No other software does more to simplify mineral management and give mineral owners the insights they need to optimize cashflow. Only Royalty Advocate delivers advanced asset mapping, state-collected data comparisons, and a powerful suite of built-in analytics that help you get more from your mineral holdings, more easily.
Sign Up for Royalty Advocate
Revenue
Data
Democratized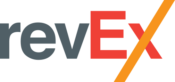 Early Adoption Starts NOW
The all-new RevEx™ platform is solving the pain point of high-cost digital  revenue data and providing a subscription-based approach for owners to collect digital data from their monthly revenue statements.
The breakthrough RevEx exchange model provides operators with another option to collect their non-op and royalty revenue data. Over time, the growing RevEx exchange will bring their data acquisition costs down.
Easy paydeck file uploads through a simple, automated process
Free hosting of unlimited revenue data
Free access to all of your non-op/royalty revenue data
Easily send announcements to your owners
Absolutely no contracts, "per-line" charges, or other hidden fees
Optionality for digital revenue data for your owners
Plug-and-play with your current paydeck exporting
Keep your current data reporting service, while uploading the same data to RevEx
The subscription-based approach of RevEx allows owners to know each month how much they will have to pay for their digital revenue data. Consolidated under one login, the process of collecting this digital data each month is significantly streamlined.
Always cost-effective, but free for early adopters
No contracts
Digital data ready to export or download as a csv or pdf
No more "per-line" charges or other hidden fees
RevEx integrates with Royalty Advocate for enhanced analytics
Start Today
by uploading the data files you already have
Seize The Future
with a better platform for you and your owners
Early Adoption Starts now
RevEx success depends on you
Traditional revenue data sharing is expensive and cumbersome. Fueled by a growing number of operators, RevEx is changing that. Beginning today, RevEx provides operators with a platform that facilitates the exchange of revenue data, without the typical high costs. No extra work is needed to participate in RevEx. Just send the same data export files you currently use!
Join The
Revolution
Today!
To get started with smarter solutions in mineral management and revenue exchange data.