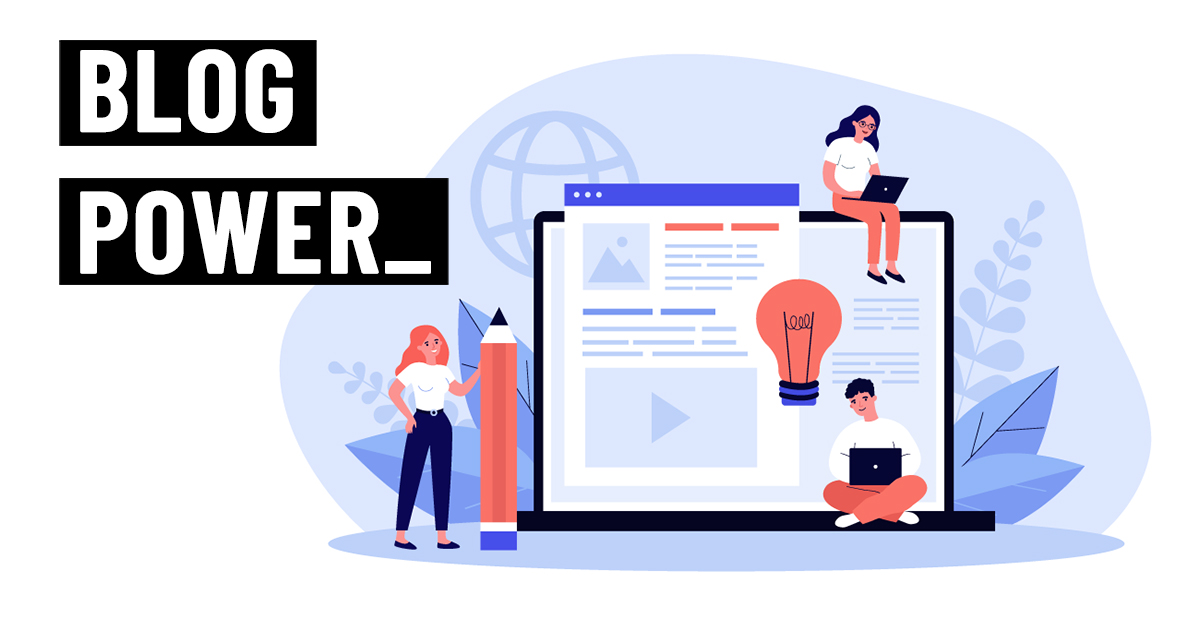 BLOG POWER_
Ideas for Better B2B Blogs   
Did you know that companies who blog on a regular basis generate 67% more monthly leads than companies who don't? [1]
Or that marketers who blog experience 13x higher ROI than their non-blogging counterparts? [2]
About 60% of B2B marketers consider blogs to be their most valuable content channel. And businesses who blog attract 55% more website visitors than those who don't. [3]
While these numbers are jaw-dropping by any sales and marketing standard, there are some obvious explanations of why blogging makes such a difference.
The broad appeal of blogs…
It turns out that most people – including B2B buyers – would rather learn about your company through articles than through advertisements. (Nearly three-fourths of people prefer this type of experience, according to a DemandMetric survey.)
What's more, according to the same survey, 80% of all internet users regularly interact with both blogs and social media, accounting for 23% of time spent online.
Blogs provide a unique way to engage, educate, and inform B2B buyers about your products, services, and your company. Done right, blogs can serve as a key tool in lead-generation, prospect engagement, and customer relationship development.
Pro Tip: Create blog content your B2B visitors will find useful, then use digital ads and social media to drive users to your blog.
Other advantages of blogging…
Beyond their power of persuasion and engagement, blogs offer additional business advantages.
Blogs can result in a 434% increase in indexed website pages, and almost double the number of indexed links. [4] This can fuel continuous improvement in Search Engine Optimization (SEO) scores, leading to better Search rankings and keyword search results.
In addition, blogs provide an opportunity to showcase thought leadership in your company and advance the credibility of team members and departments within the organization.
Finally, blogs provide an ongoing, well-structured communications forum that lets companies stay ahead of trends, keep up with competitive developments, and deliver timely news about technologies, products, and solutions.
Pro Tip: Develop a content calendar to guide blog development in advance, and involve key people within your company as subject matter experts (SMEs).
Challenges for B2B bloggers…
More than half of bloggers surveyed by Orbit Media say that reader engagement is getting harder to achieve. [5]  To further complicate the challenge of building engagement, one marketing blog site recently reported that half of its visitors only spend 15 seconds or less reading their articles. [6]
Creating engaging visuals, producing good design, sourcing good content, and achieving a wide audience are some of the other top challenges of B2B bloggers.[7]
As a B2B marketer, time and resources can be a significant impediment to implementing a blog-based content marketing strategy. Not only can a well-executed blog initiative require high levels of time and effort, but there is also a need to develop supporting assets such as video, images, infographics, and other high-value content.
Creating better B2B blogs…
Bloggers are spending more time than ever creating blog posts (an average of 4 hours in writing time alone), and more effort is being devoted to developing video and visual content to increase user engagement levels.
The average blog post is about 1,200 words, though there are no hard and fast rules governing the length or scope of blogs. More than half of bloggers report better results from blog posts containing 2,000 words or more. [8]
According to Social Media Today, blog viewership increases by 94% when the blog contains relevant visual content. [9]
To create consistently well-performing blogs, it pays to keep a few things in mind:
Be strategic in your selection of topics that offer a high level of interest
Keep your "Buyer Persona" in mind at all times
Focus on content that can be easily skimmed by readers
Optimize your blog content for SEO
Link to additional resources on your website where appropriate
Incorporate video to get up to 2x engagement
Increase readership with visuals
Don't be afraid to experiment with new blog formats
Involve subject matter experts to build credibility
Promote blog content via social media, emails, and digital ads
Conclusion
Blogs are an important component of B2B marketing, serving to generate leads, nurture prospects, maintain visibility with potential customers, and build a reputation for thought leadership. A consistent blogging initiative will yield results by increasing leads, web traffic, and SEO results.
By focusing on content that your prospects find useful, you'll increase engagement levels and the overall user experience.
There are many aspects to creating and maintaining an effective blog-based content marketing program. Triad B2B Agency can optimize your content marketing. We concept, write, design, and implement blog content that meets your goals.
For more information, we invite you to contact us.
© 2021 Triad Business Marketing. All rights reserved.
[1] DemandMetric [ https://www.demandmetric.com/content/content-marketing-infographic ]
[2] HubSpot [ https://www.hubspot.com/marketing-statistics?hubs_post=blog.hubspot.com%2FMARKETING%2FBUSINESS-BLOGGING-IN-2015&hubs_post-cta=HubSpot&_ga=2.228835804.1145256572.1637337138-413077534.1635283947&_conv_v=vi%3A1*sc%3A3*cs%3A1637337135*fs%3A1635283942*pv%3A3*seg%3A%7B10031564.1%7D*exp%3A%7B%7D*ps%3A1635450895&_conv_s=si%3A3*sh%3A1637337134871-0.1377951825894781*pv%3A1 ]
[3] Op. cit.
[4] DemandMetric [ https://www.demandmetric.com/content/content-marketing-infographic ]
[5] Orbit Media [ https://www.orbitmedia.com/blog/blogging-statistics/ ]
[6] Buffer [ https://buffer.com/resources/55-visitors-read-articles-15-seconds-less-focus-attention-not-clicks/ ]
[7] Venngage [ https://venngage.com/blog/visual-content-marketing-statistics/ ]
[8] Orbit Media [ https://www.orbitmedia.com/blog/blogging-statistics/ ]
[9] Social Media Today [ https://www.socialmediatoday.com/marketing/2015-04-06/content-relevant-images-gets-94-more-views-infographic ]