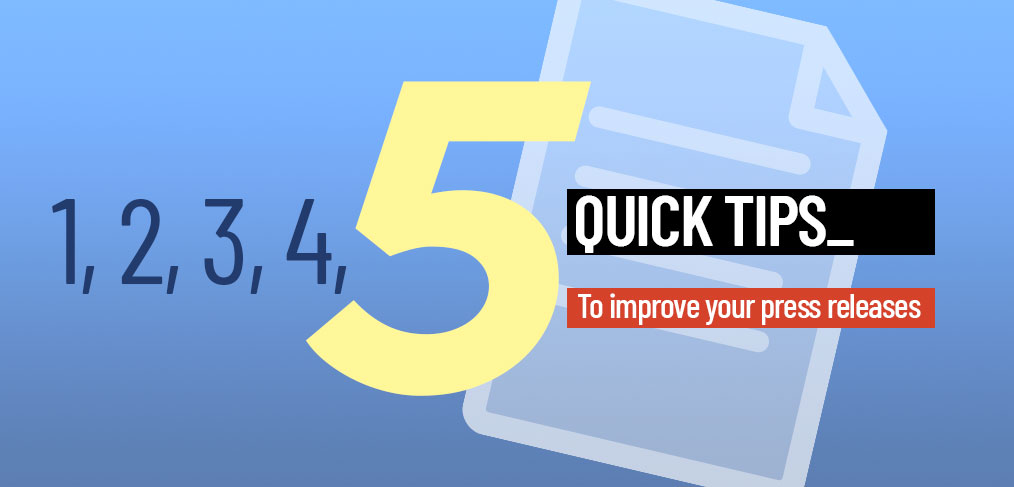 5 Quick Tips to Improve Your Press Releases
Follow these quick tips to help your press releases get picked up by the media.
1. Create a Press Release Template
Find or create a template for your press releases. Using a template ensures your press releases look professional, branded, and cohesive. A journalist is more likely to pick up your press release if it looks professional. A press release template will also keep you from forgetting or incorrectly formatting information in your press release.
2. Front Load Important Information
Journalists don't have time to read your press release word for word at first viewing. Load all the important information in the first paragraph to make it easy. A journalist should be able to answer the quintessential six questions after reading the first paragraph. Make sure you first paragraph answers:
Who
What
When
Where
Why
How
3. Insert Key Stakeholder Quotables
Executives
Project Leads
Excited Customers/Recipients
Providing great quotes up front can give you a leg up on the competition when it comes to press releases. Add quotes from people key to the story, internal and external stakeholders. The easier you make a story to write the more likely a journalist is to pick it up.
4. Provide Valuable Background Info
Noteworthy ways the project developed
Creative ways the idea was conceived
Obstacles that were overcome
In addition to making your press release newsworthy, providing valuable background information can add context and color for journalists. Boring press releases at best make boring news.
5. Make the Information Obvious
Keep your company boilerplate succinct and straightforward. Explain what the company does in plain English so journalists understand. Include a link to the company homepage early in the release so journalists can quickly reference the website. Be sure to provide links to any sources cited in the release. And include instructions how the journalist can obtain hi-res images.
Use these five quick tips to improve your press releases. Have press release tips of your own? Share in the comments. Or, contact Triad and we can help you plan your next press release for maximum exposure.